Ziti with Ricotta Meatballs
Ziti with Ricotta Meatballs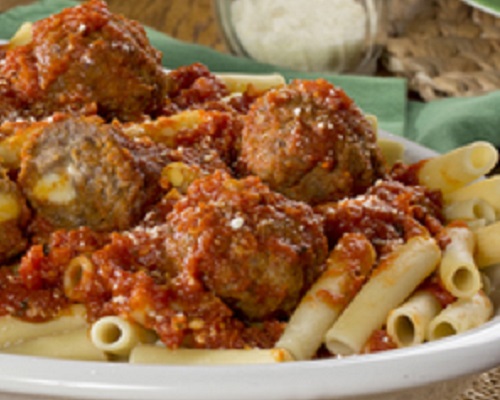 Ingredients
8 servings
16 ounce tub whole milk ricotta cheese (or make your own)
3 cups country loaf or sour dough bread, crusts removed and cubed (1 small to medium loaf)
2 cups milk
1 pound ground beef
1 pound ground pork
1 pound ground veal
3 whole large eggs
1 cup sweet onion, diced fine
1/2 cup Parmesan cheese grated, plus more for serving
1/4 cup fresh Italian flat leaf parsley, chopped
2 teaspoons kosher salt
1/2 teaspoon freshly ground black pepper
Few grinds fresh nutmeg
1/2 cup extra virgin olive oil
1 pound dry ziti
1 1/2 quarts tomato sauce, your own or store bought
Instructions
    Lay out a 12-inch square of double layered cheesecloth and place the ricotta in the center. Pull up the sides and tie off the top with twine.
    Lay a strainer over a bowl and place the cheesecloth pouch in the strainer. Place a bowl over the cheesecloth and press down. Add weight to the bowl so that it is constantly pressing down on the cheesecloth pouch and place the entire thing in the refrigerator for at least four hours or overnight. My weight was two sweet potatoes I had but any weight will work.
    After four hours, you should see ½ cup of liquid sitting in the bottom bowl. Discard that liquid.
    Open the cheesecloth bag and place the contents into a large bowl.
    Trim the crusts from the bread and cut the bread into cubes and place three cups into a medium bowl and cover with the milk while you work on the rest of the recipe.
    Add the ground meats, eggs, onion, Parmesan, parsley, salt, pepper and nutmeg to the bowl with the ricotta. Do not mix yet.
    Squeeze out all the milk from the bread and discard the milk. Place the squeezed-out bread in the bowl with the other ingredients and gently mix until combined.
    Line a sheet tray with parchment paper.
    Use a large scoop, scoop out heaping scoops of meatball mixture onto your cutting board or counter, dipping the scoop in water between scoops. You want 24 even sized scoops of meat mixture.
    With wet hands, roll each scoop of mixture into a ball and place on the prepared sheet tray and refrigerate for 30 minutes or longer.
    Fifteen minutes before baking, preheat oven to 425 degrees F.
    After the meatballs sit for at least 30 minutes, remove from refrigeration, re-roll each one to a perfect round shape, then brush each using the half cup of the extra virgin olive oil.
    Bake for 25 minutes.
    While the meatballs are baking, cook the ziti in boiling salted water according to box directions and set aside.
    Heat the sauce in a sauce pan.
    To serve, toss the cooked drained ziti with some of the sauce and top with the meatballs and the rest of the sauce.
    Serve with additional Parmesan cheese over each portion.