Zucchini and Pecorino Cheese Bites
Zucchini and Pecorino Cheese Bites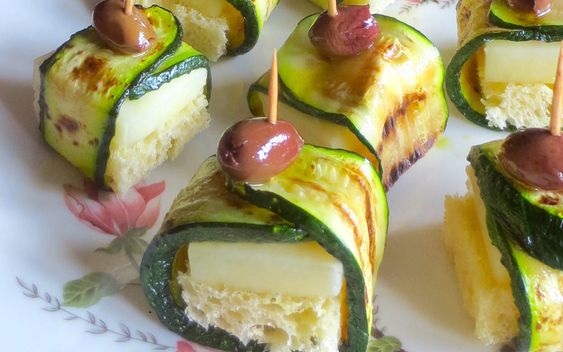 Zucchini and Pecorino Cheese Bites
INGREDIENTS 
4 PEOPLE
zucchini, 2

pecorino cheese, 11 oz

Altamura bread, 3 slices

garlic, 1 clove

extra virgin olive oil, ½ cup

salt, to taste

pepper, to taste

dried oregano, 1 tsp

Olives "taggiasche", About 12
PROCEDURE
In a little bowl, mix ¼ cup of oil with the garlic finely chopped, 1 tsp of dried oregano, a pinch of salt and pepper.

Cut the zucchini in the length into slim slices, brush both sides with the mixture of oil and cook on the grill for 5 minutes per side.

Remove the crust from the bread and cut the rest into pieces of about 1×1 inch. Do the same with pecorino cheese.

Brush bread with oil and lightly toast it on the grill.

Place on each piece of bread a piece of cheese and wrap them with a slice of zucchini.

Close it it with a toothpick and put on the grill, to melt the cheese slightly.

Serve immediately.