Bread Pudding with Vanilla
Bread Pudding with Vanilla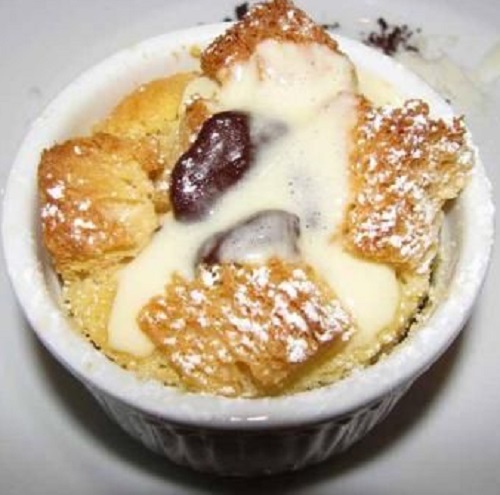 Ingredients:
For the Pudding:
3 and 1/2 oz (100 grams) day-old bread, crusts removed
12 fl oz (350 ml) skimmed milk
3 and 1/2 oz (100 grams) caster sugar or superfine sugar, plus extra for dusting
2 oz (50 grams) sultanas
Plain flour, for dusting
1/2 oz (15 grams) unsalted butter, plus extra for greasing
2 fl oz (50 ml) fior d'agno or citrus liqueur
1 egg
1 egg yolk
For the Vanilla Sauce:
18 fl oz (500 ml) milk
5 egg yolks
4 oz (120 grams) caster sugar or superfine sugar
1 vanilla pod, halved lengthways
Directions:
Prepare the Pudding:
Tear the bread into pieces and place it in a bowl.
Bring the milk to the boil, remove from the heat and stir in the sugar until it has dissolved.
Pour the mixture over the bread and leave until the liquid has been absorbed and the mixture has cooled.
Place the sultanas in another bowl, add warm water to cover and leave to soak for about 15 minutes, then drain and squeeze out.
Dust with flour, gently shaking off any excess.
Preheat the oven to 160°C (325°F) Gas Mark 3.
Grease individual moulds with butter and dust them with sugar.
Pass the soaked bread through a sieve into a bowl and add the sultanas, liqueur, egg and egg yolk, mixing well.
Spoon the mixture into the moulds until they three-quarters full.
Dot the surface with the butter and bake for 20 minutes, then increase the oven temperature to 180°C (350°F) Gas Mark 4 and bake for a further 10 minutes.
Remove from the oven, to cool, then serve with the vanilla sauce.
Prepare the Vanilla Sauce:
Bring the milk just to the boil, then remove from the heat.
Meanwhile, put the egg yolks and sugar in a heatproof bowl and scrape in the contents of the vanilla pod.
Beat vigorously until light and fluffy.
Gradually beat in the hot milk.
Set the bowl over a pan of barely simmering water and cook, stirring constantly with a wooden spoon until thickened, taking care that the eggs do not curdle.
Strain and leave to cool before serving. Serves 8-10.