Chiacchiere Sweet Fritters for Carnevale
Chiacchiere Recipe
Sweet Fritters for Carnevale
Giallo Zafferano / Yellow Saffron 
*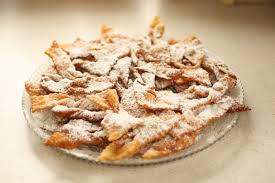 Le frappe , or lies , or chiacchiere , are typical Italian sweets prepared usually during the carneval period , also called with many other regional names.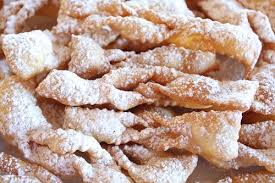 Their tradition goes back to that of frictilia , the fried desserts that in ancient Rome were prepared during the period of today's Carneval.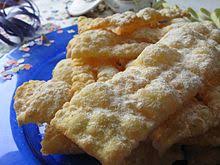 The base is a mixture of flour , butter , sugar , eggs and an alcoholic component, such as brandy , marsala , sambuca , vinsanto , brandy , grappa , or other distillate and liqueur . Subsequently the dough is cut into strips, sometimes manipulated then to form a knot (in some areas they take the name of bows ). [4] There are two possibilities for cooking:
the dough is fried;

the dough is baked.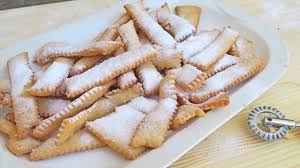 Finally, sprinkle with powdered sugar or, according to some variations, they can also be covered with honey, chocolate and / or icing sugar , washed down with alchermes or served with dark chocolate or mascarpone whipped and sweetened.
*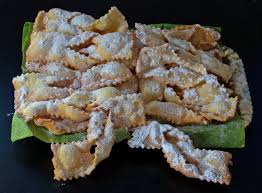 The frappe are known by different names ] in the various Italian regions:
cróstui o cróstoli ( Friuli ) ;

cunchielli ' (in some areas of Molise );

galàni (area between Venice, Padua and Verona)

galarane or saltasù ( Bergamo )

sfrappe ( Marche );

sossole (obsolete in Verona , supplanted by galàni );

strufoli or melatelli (if with honey) ( Maremma toscana );

fried pizzas ( internal Romagna );

and still rags , lasagne , pampuglie , manzole , garrulitas (in Sardinian).
*
*
Join Joanne and Frank on Facebook at
and