Frank – Dean – Bing – "Style" from Robin & the Seven Hoods
Frank – Dean – Bing 
"Style" 
Robin and the Seven Hoods
*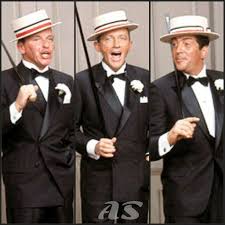 Written by David R. Schwartz, the film transplants the Robin Hood legend to a 1930s Chicago gangster setting, though this story's utterly opportunistic Marian is very different from the faithful Maid Marian of the original legend.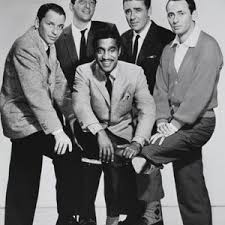 Sammy Cahn and Jimmy Van Heusen wrote the score. Crosby, still a major movie star at the time who had top billing over Sinatra in their last film together, High Society, sang more songs than Sinatra in this film as well.
"My Kind of Town" is the centerpiece number of the film. Orchestral versions of the song are the primary element of the opening and closing credits. A dance band also plays the song in Robbo's speakeasy. Sinatra sings the song to the citizens outside the courthouse after having been framed for, and acquitted of, murdering the sheriff.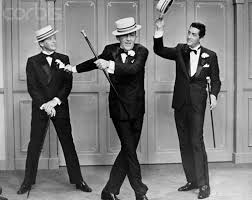 Robin and the 7 Hoods was filmed in November–December 1963. According to Robert Osborne, primary host for Turner Classic Movies, this was a very troubled production for Sinatra due to two outside events, so much so that he considered not completing the film. Close friend President John F. Kennedy was assassinated, and Sinatra's son, Frank Sinatra, Jr., was kidnapped and held for ransom only weeks later.