Fried Calamari Recipe – Laura Vitale Laura in the Kitchen
Fried Calamari
Laura in the Kitchen
Excellent Recipe
*
Fried Calamari is one of those dishes that pretty much appeals to everyone. However if not made correctly it can be tough and unappetizing.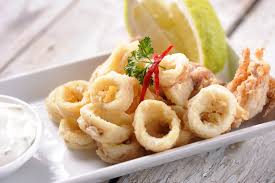 This is an excellent recipe by Laura Vitale that we know you will enjoy.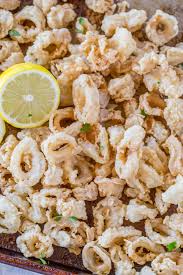 Squid is eaten in many cuisines; in English, the culinary name calamari is often used for squid dishes, notably fried squid (fried calamari). 
Fried squid (fried calamari, calamari) is a dish in Mediterranean cuisine. It consists of batter-coated, deep fried squid, fried for less than two minutes to prevent toughness. It is served plain, with salt and lemon on the side.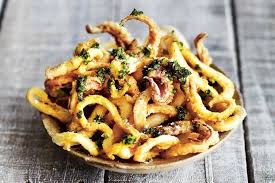 In Italy, Greece, Spain, Portugal and Croatia, squid rings and arms are coated in batter and fried in oil. Other recipes from these regions feature squid (or octopus) simmered slowly, with vegetables such as squash or tomato. When frying, the squid flesh is kept tender by short cooking time. When simmering, the flesh is most tender when cooking is prolonged with reduced temperature.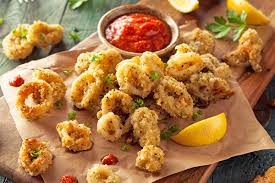 There are many ways to prepare and cook squid, with every country and region having its own recipes. Fried squid appears in Mediterranean cuisine. In Lebanon, Syria and Armenia, it is served with a tarator sauce. In New Zealand, Australia and South Africa, it is sold in fish and chip shops. In North America, fried squid is a staple in seafood restaurants. In Britain, it can be found in Mediterranean 'calamari' or Asian 'salt and pepper fried squid' forms in all kinds of establishments, often served as a bar snack, street food or starter.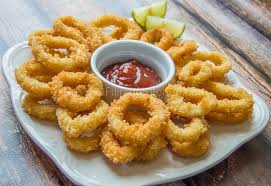 Squid can be prepared for consumption in other ways. In Korea, it is sometimes served raw, and elsewhere it is used as sushi, sashimi and tempura items, grilled, stuffed, covered in batter, stewed in gravy and served in stir-fries, rice, and noodle dishes. Dried shredded squid is a common snack in some Asian countries, including East Asia.
Join Joanne and Frank on Facebook at
and