Grilled Italian Style Burgers
Grilled Italian Style Burgers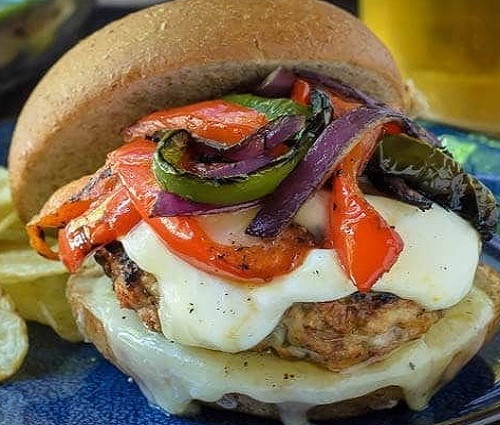 INGREDIENTS
Burgers
1 pound of ground beef

1/2 pound of hot or mild Italian sausage removed from casing.

1 small red onion, finely chopped

2 cloves of garlic, finely chopped

1/2 cup of seasoned bread crumbs

¼ cup of freshly grated Romano cheese

1/4 cup of fresh parsley, chopped

1 egg

1 tsp of liquid smoke

1/4 tsp salt

1/4 tsp of fresh ground pepper

Toppings

6 slices of provolone cheese

1 small red onion, sliced thin

1 beefsteak tomato, sliced thin

1 jar of roasted red peppers

10 fresh basil leaves

8 small loaves of foccacia bread sliced in half

PREPARATION

Mix all the burger ingredients in a medium sized bowl.

Shape into burger shaped patties.

Place directly on grill for 10 minutes.

Turn once and grill the other side for 10 more minutes.

Top with provolone cheese until melted, about 1 minute.

Remove burgers and toast the foccacia face side down for I minute or you can use regular hamburger buns.

Top with sliced onion, tomato, roasted red peppers and fresh basil leaves.