Pizzoccheri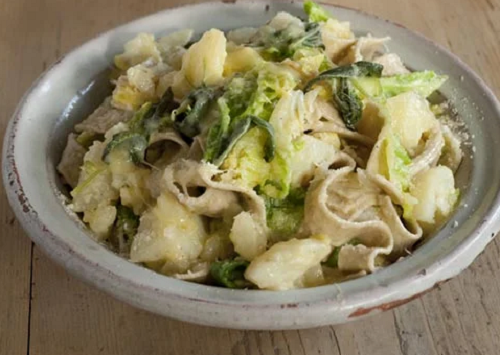 Ingredients
 4 – 5 people:
400 grams buckwheat flour
100 grams all purpose flour
150 grams butter
175 grams Valtellina Casera cheese (if you can't get this, you can use Italian Fontina or Fontal)
150 grams Parmigiano Reggiano or Grana Padano finly grated
200 grams Savoy cabbage
250 grams cubed potato
1 clove garlic
4 sage leaves
salt and pepper
Directions
Mix the two flours, add some water and knead for five minutes.
Roll the dough with a rolling pin until you get a 2-3 millimeters thick sheet from which you have to cut strips 7-8 centimeters wide.  Then put them one on top of  the other and cut again to obtain the pizzoccheri (short noodles half a centimeter wide).  This sounds a bit confusing… but it is quite simple… just look at this picture:
Cut the cabbage into pieces and cook it together with the cubed potatoes in salted boiling water.  After 5 minutes add the pizzoccheri and let cook for ten minutes.  In the meantime brown the butter with some garlic and 4 sage leaves.
Drain some pizzoccheri and vegetables with a skimmer and put them in a baking-dish.
Cover with grated Parmigiano Reggiano, slivers of Fontal cheese and a little bit of the melted butter, then put on another layer of pizzoccheri and vegetables, cheeses and butter.  Make as many layers as required.  Finish with a layer of cheeses and butter and serve hot with a dusting of pepper.