Ricotta meatballs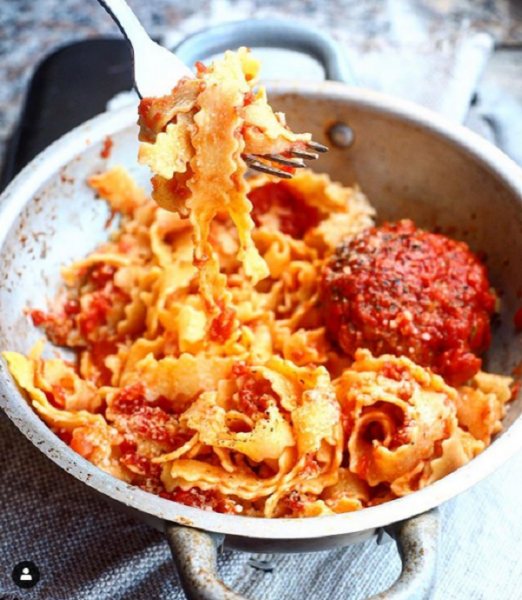 Ingredients

70 g stale crustless bread, torn
125 ml (½ cup) milk
120 g ricotta
500 g pork and veal mince
1 egg
40 g (½ cup) grated parmesan, plus extra, to serve
2-3 tbsp chopped parsley leaves, stalks reserved
¼ tsp finely grated nutmeg
finely grated zest of ½ lemon
salt and freshly ground black pepper, to taste
50 ml extra-virgin olive oil
1 large French shallot or small brown onion, finely chopped
150 ml red wine
800 ml passata
1 piece red or yellow capsicum
1 small celery stalk from the heart, leaves reserved

1. Place the bread and milk in a large mixing bowl, toss to combine. Stand for 20 minutes, then use your hands to mash it into a pulp. Add the ricotta, mince, egg, parmesan, parsley, nutmeg, lemon zest and a little salt and pepper and mix well (using your hands is best here) to create an even paste. Refrigerate for 20-30 minutes to firm up a bit.

2. Heat the oil in a large heavy-based frying pan over medium heat. Shape the meatball mixture into golf ball-sized rounds and cook in batches until browned all over. Add the shallot and cook with the meatballs for 1-2 minutes. Add the wine and simmer for 2-3 minutes, then add the passata, 400 ml water, capsicum, celery stalk, the reserved parsley stalks and a pinch of salt. Stir through gently, then bring to a simmer. Reduce the heat to low, cover and cook for 2 hours, stirring occasionally. Taste for salt and adjust to your liking. Discard the exhausted celery and parsley stalks and capsicum. Enjoy as they are or with al dente curly pappardelle (reginelle) and grated pecorino.